Easter Chicks and Easter Cards Activities
Who doesn't love a homemade Easter Card? Children love Easter Chicks and Easter Cards Activities and family members and friends love receiving them as gifts at Easter Time. Easter Arts and Crafts for Kids are sure to keep the whole family entertained during this lockdown Easter Holidays.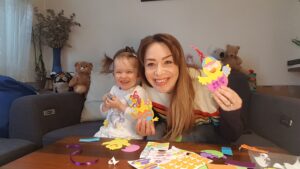 Baker Ross have loads of wonderful Easter Ideas for children to keep your children entertained this Easter Holidays. When the children manage to put the Easter Chocolate down for a minute – there are some wonderful Easter Arts and Crafts Activities that you can do. Minnie & Lori are making Baker Ross's Easter Chicks with all their delightful accessories and then making them into Homemade Easter Cards for family and friends. Lots of Easter Fun to be had and lovely parent/ child activities together. Baker Ross have 15% off all Easter Arts and Crafts for a limited time so don't miss out! Discount code is Easter15.
Here is Minnie The Clown, aka Jenna, aka Mummy making fun Easter Chicks and Easter Cards with her little Lori for Nanna and Grandpa. Don't worry, EVERYONE we know will be getting an Easter Card or Easter Bunny from us! Got to keep this little girl entertained throughout this long lockdown! haha. 
More Easter Fun Ideas for Children can be seen on our YouTube Channel
Like us on Facebook
Follow us on Instagram
Subscribe To Our YouTube Channel
FROM 29TH MAY



Our Children's Entertainers will be allowed to entertain birthday parties inside and outside! The two households/rule of 6 will apply INDOORS, bookings OUTDOORS can have up to 30 people in attendance (not including our Entertainer).
FROM 21ST JUNE
We will be allowed to host celebrations BOTH inside and outside with no limit on numbers!
Until advice changes, we will maintain social distancing so the Entertainer will stay 2m away from the children to host and unfortunately no face painting or tattoos. But Balloon Modelling, Magic, Games with Prizes and Bubbles, Puppets, Silliness hosted by a Clown, Superhero, Princess, Pirate or Fairy… YES PLEASE!
So please
Contact Us
 now to book your child's social distancing party entertainer for a post lockdown magical birthday to remember!
Virtual Party Entertainers or other themes including Science Parties are available. Also Personalised Birthday Video Messages and live Video Calls are available too! Click right on the Blog below for further details 🙂
Contact Us To Find Out More.
Subscribe to our YouTube Channel for New Videos
Like Our Facebook Page to see offers, updates and other fun 🙂
Have Preschoolers? Please check out our Minnie Music Videos to entertain and engage them!