Virtual Birthday Parties – Celebrate Online Through Zoom!
Virtual Children's Party Entertainers are now available to Book for for Virtual Zoom Parties Online!
A Virtual Birthday Party is hosted by our professional Children's Entertainers and they include super fun interactive games, disco dancing, Treasure Hunt, Magic entertainment and more! They receive fantastic reviews!
45 mins of Birthday Party Celebration from the comfort of your sofa with up to 100 friends by a recommended Children's Entertainer? Yes Please!
Lockdown Birthdays
Lockdown Birthdays are needed to be celebrated in a slightly different way to normal, but we can still bring the birthday fun! We may not be able to come to your home to entertain your child and a gathering of their school friends in the flesh but we can all be there via a Zoom Virtual Party and still celebrate as a big birthday party they will not forget!
Your child will LOVE seeing all his friends on screen and joining in the fun games, dancing, the highly anticipated Treasure Hunt and Magic Show!
45m mins of highly interactive and energetic entertainment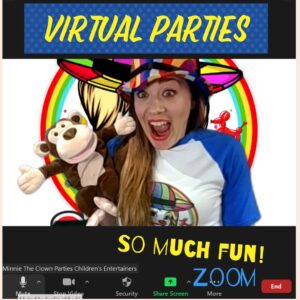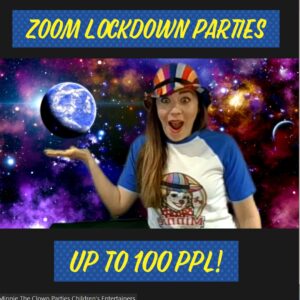 A Science Virtual Party
A Science Virtual Party is available too! A science party to amaze and engage all children – slime, rockets and all kinds of super interactive science experiments with recycled/every-day objects from the comfort of your own home. You will be able to invite guests online into the group for free and we also get to talk and see each other too!

You can source items from your own home in advance to participate in the fun science experiments! For Birthdays or just a cheer the kids up day during this isolation 🙂 Making science and isolation cool! Boom!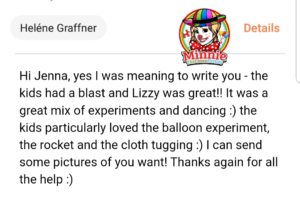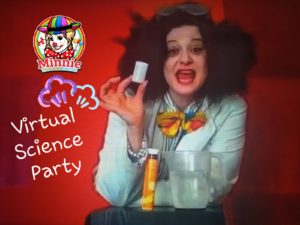 Our Virtual Science Parties are adapted to suit the ages of the party guests. You can book 30 minutes, 45 minutes or an hour virtual online party. Contact Us To Find Out More.
Subsribe to our YouTube Channel for New Videos
Like Our Facebook Page to see offers, updates and other fun 🙂
Virtual Party Entertainers for other themes are available and Personalised Birthday Video Messages are available too! Click right on the Blog below for further details 🙂
Have Preschoolers? Please check out our Minnie Music Videos to entertain and engage them!