Virtual Birthday Parties – Celebrate Online Through Zoom!
Virtual Children's Party Entertainers are now available to Book for for Virtual Zoom Parties Online! 
45 mins of Birthday Party Celebration from the comfort of your sofa with up to 100 friends by a recommended Children's Entertainer? Yes Please!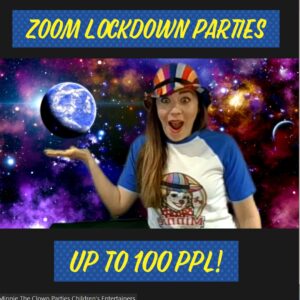 Online virtual Parties are super popular alternative at the moment in this current Covid climate.
 Virtual Parties
Hosted By A Fun Colourful General Entertainer or by a Rainbow Unicorn, Fairy, Princess, Superhero, Minion Entertainer and more (please ask)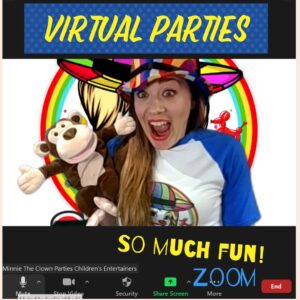 High Energy Party Entertainment from the comfort of your own home by our friendly Magical Entertainer! Invite up to 100 people! Includes, An Awesome Interactive Magic Show & Funtabulous interactive Themed Games, including mini Disco dancing, learning routines, Songs & Puppets, Scavenger Hunts (that the kids absolutely love!) all delivered with cheeky clown comedy, silliness & fun.
30 mins – £99
45 mins – £129
1 Hour – £150
Contact Us To Book a Virtual Party!
Also available:
Personalised Video Calls
Fun Character Video Call! A Treat to Remember!
5 mins – £15
 Doorstop Visits
A Magical Experience with your child's favourite character at your door
Magic, Happy Birthday Sung, A Balloon Model and a Birthday Gift brought to your door!
Plus Photo Opportunity
10 Minute Visit
15 mins – £60
Subsribe to our YouTube Channel for New Videos
Like Our Facebook Page to see offers, updates and other fun 🙂
Virtual Party Entertainers for other themes are available and Personalised Birthday Video Messages are available too! Click right on the Blog below for further details 🙂
Have Preschoolers? Please check out our Minnie Music Videos to entertain and engage them!